Certification
Continuous improvement to achieve excellence
Gi.Gi.Esse: quality certified ISO 9001: 2015
Since its inception Gi.Gi.Esse has dedicated itself to the continuous improvement of quality and services provided.
In these years it has achieved excellence because it has always been committed to transmitting to its employees the mentality of attention to the needs of the customer, to develop an awareness of prevention and give added value to its activities.

Having successfully passed the certification process, Gi.Gi.Esse has thus obtained the ISO 9001: 2015 Certification from TÜV InterCert Srl - Group of TÜV Saarland which in November 2019 changed its company name to InterCert GmbH - Group of MTIC.

This important recognition certifies that "Gi.Gi.Esse's organization management system has been assessed and found to comply with the requirements of the standard" in the field of application of "Mechanical processing for third parties and production of small metal parts".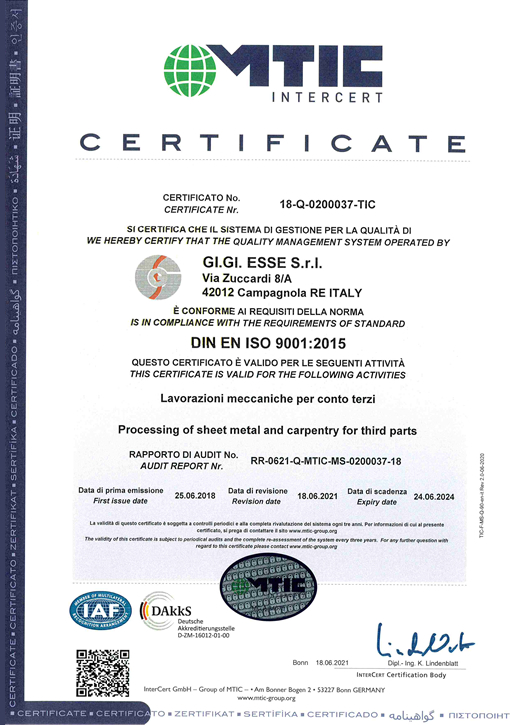 Gi.Gi.Esse considers itself very proud of the achievements achieved with so much effort and dedication that it will commit itself, even in the coming years, to maintaining these high quality standards.
GI.GI.ESSE S.r.l., through a careful analysis of its processes and the "risks" connected to them and the application of ISO 9001: 2015, aims to identify all improvement actions (opportunities) to improve its own system of management, adopting an internal Quality Policy, which you can read and download here.