Company
GI.GI.ESSE Srl

Precision mechanics workshop - Turning- Milling- Small Metal Components Via Zuccardi, 8 - 8/A - 42012 Campagnola Emilia (Reggio Emilia) - Tel. 0522 750205
Name: Gi.GI.Esse S.r.l. Precision Mechanics Workshop
Economic Purpose: A precision mechanics workshop - Turning - Milling - Small Metal Components
Business Capital: € 26'000,00 i.v.
Year of Constitution: 1994
VAT Number: 02161880362
Telephone Number: 0522 667040
Fax : 0522 751564
Registered office and operational headquarters: Via Zuccardi, 8 - 8/A - 42012 Campagnola Emilia - Reggio Emilia

GI.GI.ESSE was established in 1994 as a result of the founder, Rossi Giorgio's, passion for mechanical machining, in a 260m² office.
In a little over 10 years, the company has grown a lot, it has witnessed the entry of two new shareholders, the founder's brother Rossi Claudio and daughter Rossi Serena; it has further increased the number of machine tools, employees, expertise and services.
Today, GI.GI.ESSE is set in a covered building spread over 2200m² with a 20-employee workforce.
The primary objectives of the company are innovation, professionalism and quality with the aim of maximising client satisfaction.
Mission
Corporate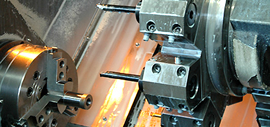 All of Gi.Gi.Esse's processes and services are synonymous with quality and reliability.
The aim of our company has always been to operate with the utmost seriousness and professionalism in precision mechanical manufacturing.
Training, innovation and quality are the main aspects that Gi.Gi.Esse feels should be taken into account to ensure that customers' expectations are always fully met.
UNBEATABLE VALUES
for gi.gi.esse
DETERMINATION - Energy and courage to transform the objective into an ambitious result

RESPONSIBILITY - Take charge of successes and failures to grow by eliminating the alibis

RECIPROCITY - Giving and demanding the same values ​​in abundance to improve team play

TENACIA - Never give up

DISCIPLINE - Respect for principles and methods to improve standards and delegation