Certification
A continuous improvement

Standard Quality Certification UNI EN ISO 9001: 2015
All the procedures are in progress to obtain the ISO 9001: 2015 Certification, the internationally recognized standard for quality management systems.
This is another example of our commitment to excellence for our customers, we are achieving under the control of TÜV InterCert S.r.l - Group of TÜV Saarland is a certification body operating in the field of compulsory and voluntary certification of systems, products, services and people.

The goal of achieving the certificate of conformity to the ISO 9001 standard does not represent for us a point of arrival, but rather a stage in a process of continuous evolution, aimed at adapting the quality management system to changing internal and external needs.

The computerization of the quality system is proving a winning choice, also thanks to the fact that, since the beginning of the path, we have tried to integrate the information system for quality with the pre-existing company information system.
Mission
Corporate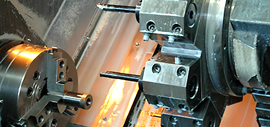 All of Gi.Gi.Esse's processes and services are synonymous with quality and reliability.
The aim of our company has always been to operate with the utmost seriousness and professionalism in precision mechanical manufacturing.
Training, innovation and quality are the main aspects that Gi.Gi.Esse feels should be taken into account to ensure that customers' expectations are always fully met.
Manufacturing
ENG Meccaniche